This month's Artist Highlight is Megan Bloesch! You can find Megan working out of our art studio at 100state or her in-home studio on the west side.
Megan first came to 100state after her submission for our latest gallery, Make a Mark. After the show she joined 100state as an Artist in Resident. This week we chatted with Megan about 100state and how she became such a talented artist!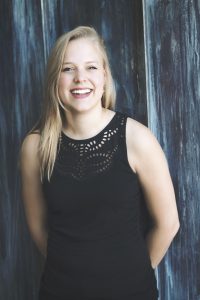 There are so many ways we can express ourselves through art. What attracts you to painting as an artistic expression?
Painting is my time to meditate. I am attracted to it because it allows me to work with my hands to form texture and create color. I enjoy how it can change its consistency and how it manipulates itself to provide a fluid environment.
Tell us more about the pieces you have displayed in the front hall of 100state? Where did the idea come from?
Since I have graduated college and have begun my art career, I feel I have improved my style and have challenged myself by creating large pieces of artwork. Currently I have three pieces on display at 100State, all large abstracted paintings. I paint intuitively and emotionally. Painting allows me to express myself and my thoughts through color and texture.
Equivalence – I am intrigued with the study and language of the human figure. I love to draw portraits and pair these figures with inorganic abstracted backgrounds. In my prior work, I focused at lot on sharing emotional thoughts through the focus of the human figure. At the time, I felt the viewer could relate to the position of the figure in my prints. Equivalence was a piece developed to try and hone in on the texture of the figure rather than just the position. I want the viewer to engage with the overall composition of the piece, the rawness and intimacy. The finer details portray aggressive or delicate mark making created over abstracted layers and translucent washes.
Was it all a dream Pt. I + II – Lately, I have been experiencing strange dreams and been trying to recreate what I feel and see in my dreams through painting. This piece was a challenge to marry two pieces together to form a diptych. I have been playing around with creating diptych and triptych pieces to see how they balance each other by themselves and as one.  
What or who inspires your work? What artists do you really admire who we should know about?
Gustav Klimt's artwork is completely inspiring and intriguing to me. I appreciate how he had abandoned historical subject matter and realism to approach his interest in creating decorative art. Klimt's artwork pushed boundaries of radical ideas that presented an ethereal atmosphere with the use of abstraction, erotic drawings and fine detail.
There are so many present day artists that I am truly inspired by, just to name a few: Henrik Aa Uldalen, Casey Baugh, Swoon, Athur Brouthers, Marco Mazzoni, J.A.W. Cooper – the list goes on.. Each artist is so incredibly talented with how they use different mediums and develop their own style.
I strive to push those same boundaries and inspire others with my work.
How does your personal history relate to the art you produce?
I feel Art always tells a story… It often mirrors life and what is going on at that point. I have challenged myself in creating different styles of art and these are all influenced/inspired by personal experiences. I have always strived to bring my creative nature into my career and exploring ways to teach others new ways of thinking.
What's your favorite part about being an Artist in Residence at 100state?
I love the communal involvement and networking opportunities available at 100State. It provides more open doors and potential experiences that I might not have had if it weren't for the initial connection with Meg. I am forever grateful for this experience and opportunity to display my work to the public.
You can check out her incredible work here or in the front lobby of 100state!