100state June Townhall Meeting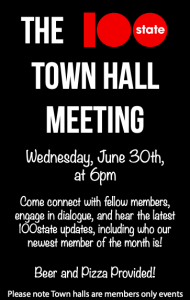 Why should you come to the 100state townhall this month?
It's our first townhall in over a year!
Connect with fellow members to learn more about them and what they're working on
Strengthen your ties to the 100state community
Expand your network of people and opportunities
Share what's going on with your business and find new teammates, partners or investors
Pitch a new idea to the 100state community
Hear what's going on behind the scenes at 100state
Ask questions of the 100state ED about what's going on at 100state and the vision for the future
Open discuss and brainstorm on decisions the organisation is facing
Be the first to hear the member of the month announcement!
Food and drinks will be provided
Hope to see you there!!
*Please note 100state townhall meetings are member only events*