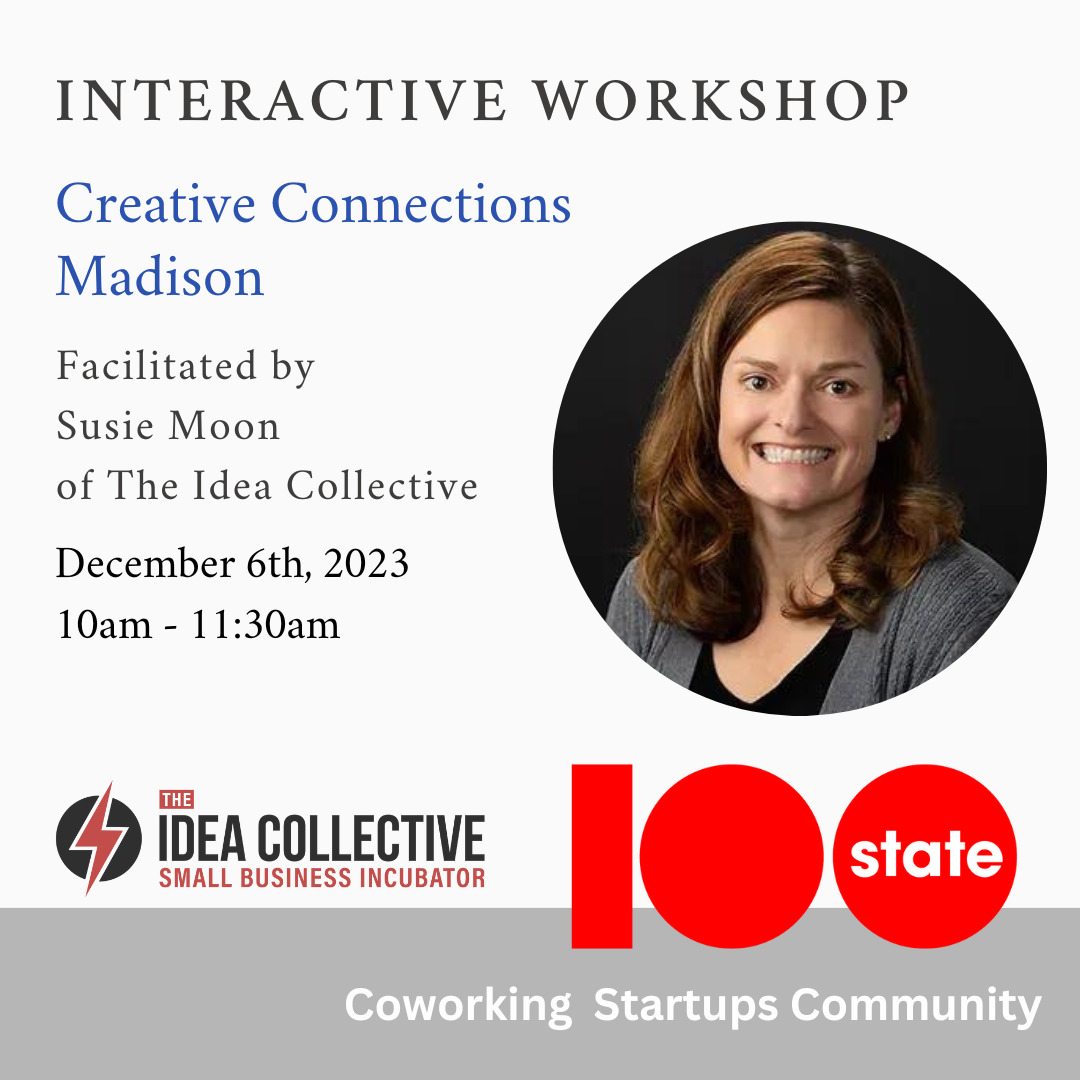 Creative Connections Madison
-Sponsored by The Idea Collective Small Business Incubator
As an entrepreneur, the odds are stacked against you. 50 percent of small businesses fail by year five, according to the SBA. 
The key to survive and thrive is to get clear on your product and service, build work habits that manage your limited time and resources, and keep moving forward regardless of what happens. 
How can you learn about what you don't know, connect with others who understand your journey, and stay motivated when things get tough?
Welcome to the Idea Collective, an international, online community for entrepreneurs who don't want to be just another statistic. As small business owners ourselves, we're solving problems, building networks of people who can help us all, and making this journey more enjoyable and profitable. 
Our session will begin with purposeful networking and connection, so you can meet and get to know each other. Following that, we'll host a live version of our signature meeting, The Idea Slam.
Idea Slams are open brainstorming sessions for everyone in the room. One of our seasoned members will moderate this session. With this event and this community, you can solve nagging problems, improve habits, and grow your business. 
Attendees will receive 2-week free trials of our community and a chance to win raffle prizes during our free event!
Running a small business is lonely and hard. Don't grow it alone®. Learn more about the Idea Collective and our mission –https://www.ideacollectiveincubator.com
Agenda (subject to change)
10:00 am Event Begins
10:20 am Program begins with "Idea Slam" (Business brainstorm and feedback session)
11:00 am – Idea Slam ends
11:30 am – Event concludes
Meet the Facilitator
Susie Moon with the Idea Collective
Growing up in a small Wisconsin town, I spent most of my childhood in the family business.
From my mom, I picked up tips on customer service, the importance of internal processes, and bookkeeping.
From my dad, I was taught how to hustle, use humor with customers, and watch the bottom line.
I have over 25 years of business experience, working for a variety of companies of various sizes.
In 2018, I realized there was an entrepreneurial fire burning inside me. I surrounded myself with high-performing people who provided inspiration to dream of a better life for myself.
In December 2019 I had the confidence needed to leave my corporate job to create
Susie Moon Consulting.
With me, it's more than a to-do list.
It's a personal investment in the outcome. I dream with clients on how to improve their business and implement tangible steps to achieve results.