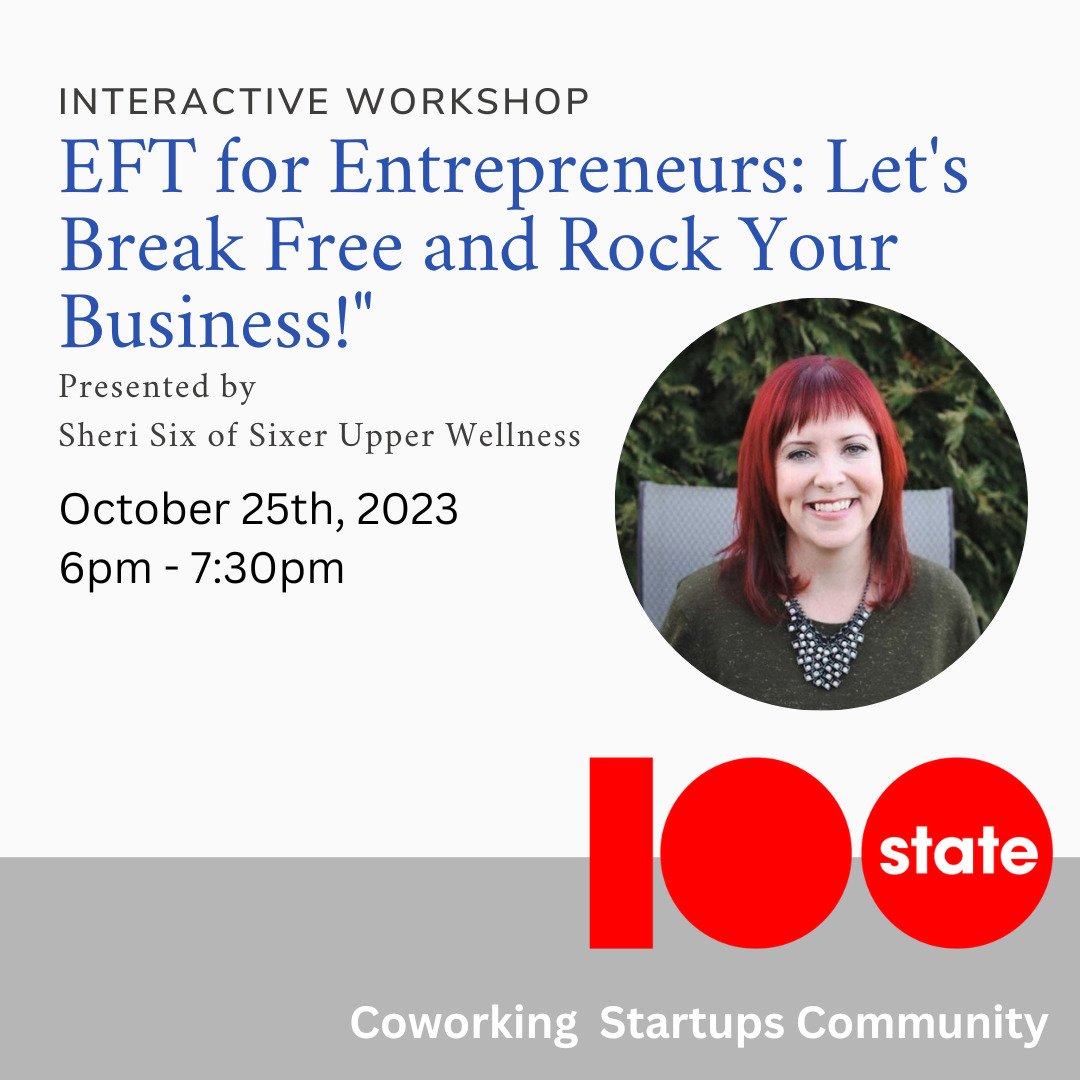 EFT for Entrepreneurs: Let's Break Free and Rock Your Business!
Hey there, fellow business rockstars! Ready to turn up the energy and supercharge your small business success? Join us for a fun-filled workshop where you will learn how to use the tool of EFT (Emotional Freedom Technique).
In the wild world of entrepreneurship, emotions can be the secret sauce or the sneaky saboteur. We're here to show you how to dance through those emotional obstacles using the incredible power of EFT.
In this interactive and enjoyable class, you'll learn to boogie with your feelings, let go of stress, and crank up your confidence. Sheri Six, certified  EFT practioner is your dance instructor guiding you through practical exercises tailor-made for the quirks and quirkiness of business life.
Here's the Groovy Lineup:
Unmask and tackle those emotional barriers.
Shake off stress and make those smooth decisions.
Unleash your inner creative superstar.
 Boost your confidence and rock the entrepreneurial stage.
Tune into a positive mindset for long-lasting success.
Get ready to tap into the rhythm of your business journey! Whether you're just starting your gig or looking to take it up a notch, EFT is your backstage pass to success.
Don't let emotions be the wallflower at your business party; invite them to the center stage and watch your entrepreneurial spirit soar! Grab your spot now, and let's rock your business like never before!
Meet the Instructor
Sheri Six is an EFT Tapping Practitioner and Access Bars facilitator based in Madison, WI.  Sheri specializes in helping clients "Tap Away their Crap".  She helps people go from stressed to serene by helping them release their emotional baggage that has been weighing them down.  Whether your goal is to sleep better, lose weight, find a healthy relationship, or perhaps break free from a phobia, Sheri will quickly and compassionately guide you through these changes in a lighthearted, loving way.  In her free time, Sheri enjoys spending time with her son and singing karaoke.  You can learn more about Sheri and book a free Tap Away Your Crap Discovery Call at https://sixerupperwellness.com